GRAY GLACIER NAVIGATION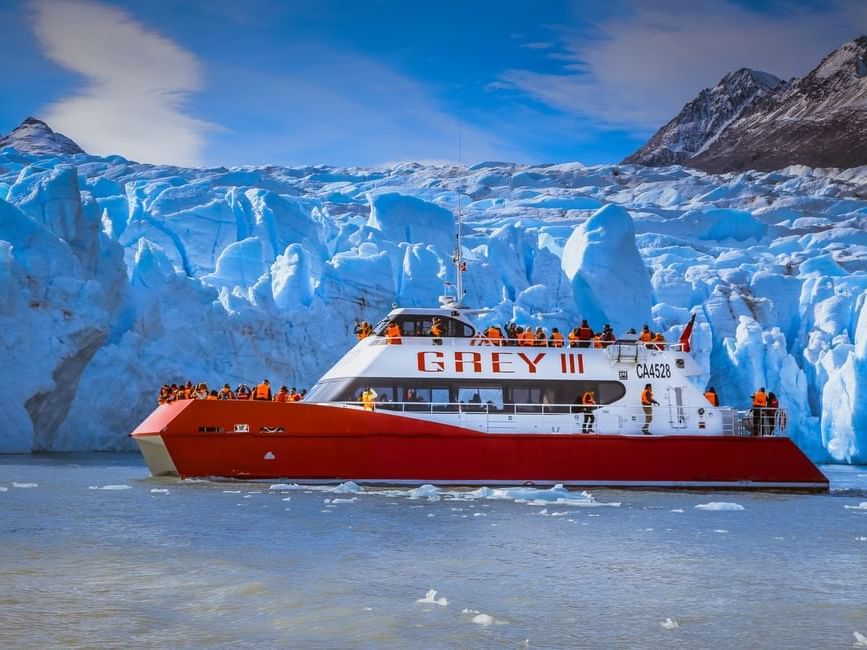 The excursion begins with check-in at the reception of the Hotel Lago Grey, where it is necessary to register one hour before departure. Afetr this, there is a short transportation until a small bridge over Pingo river and walk through the forest to reach the lakeshore and board. Once on board and after an hour of sailing in the in the milky wters and among the icebergs, the boat stands in front of the ice giant, the gray glacier, wich is one of the largest in the area, wich belongs to the Campo de Southern Patagonian Ice, one of the largest water reserves in the world. It stays for about an hour in front of the glacier, observing its charasteristic deep blue color and its cracks. The return is by the same route.
Sailing is one of the most-see excursions during your visit to Torres del Paine Park; it is carried out on board the "Grey III" boat and allows you to enjoy an incomparable landscape composed of floating icebergs, lush vegetation and imposing mountains.
Magallanes and Chilean Antarctica, Chile Torres del Paine Chile
Ask for additional nights and private transfers to the airport or Puerto Natales if necessary.
Package includes accommodation in a City View room. Ocean View subject to availability.
Navigation subject to weather conditions
Optional excursions are not included in the program..
Regular buses operate between 7:30 am to 8pm. Duration: 3 hours..
Bicycle and GoPro camera services available upon request at the reception desk when checking in at Hotel Costaustralis.
Rates in pesos are exclusively for Chilean guests.
Navigation does not operate and is not included during low season.